2023-09-15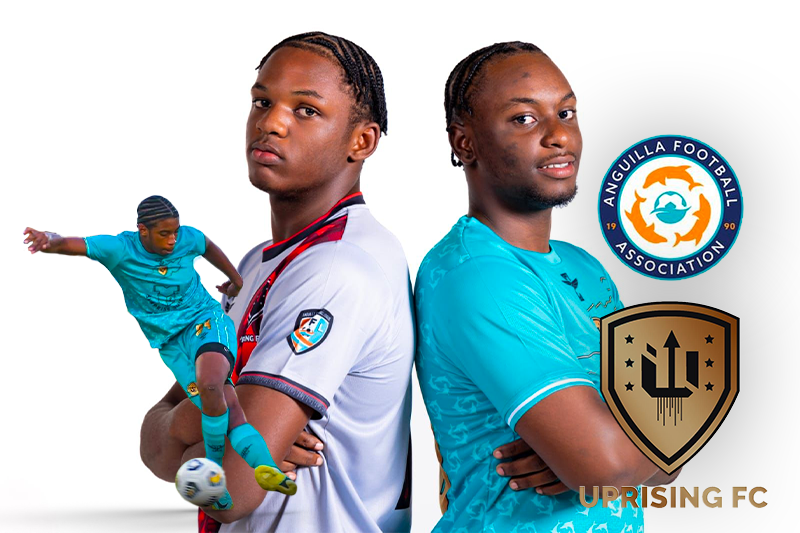 A VERY PROUD DAY FOR OUR CLUB
On Thursday 7th September 2023, the Anguilla men's national team played against Saint Martin in a CONCACAF Nations League Game at the Raymond E. Guishard Technical Centre. The result of the game ended in a resounding 6-0 victory to Saint Martin, but it will still go down as an historic and very proud moment in the history of our club!
The reason for this is that we had not one, not two, but three of our players in the squad for the game and all three got minutes under their belts! Massive congratulations are in order for Javis Jones who started the game, and Delani and Defari Francis who came on as substitutes! We spoke to all three players after their game for their thoughts on playing for Anguilla, and for their thoughts ahead of the 2024 season with Uprising FC.
​​​​Defari Francis: I was very nervous before the game, but as soon as my feet touched the grass, all my nerves disappeared! As a team I thought we could have done a lot better which is something we will look to improve upon in future games. As for the new season with Uprising............. our aim should be to win the AFL Championship!
Delani Francis: I was nervous at first when I went on to the field but then I just played with confidence, playing for my country at a senior level was an amazing feeling! I was disappointed with the result because we were hoping for a better performance, but we tried our best!
My hopes for the new season with Uprising are that we achieve the goals that are put in front of us and leave the competition with a trophy!
Javis Jones: It was an honour to play for Anguilla again despite some of the setbacks that we faced. As a team we will never give up and I will stay focused every time I play for my country! With Uprising, we should be aiming high with plenty of positivity and work together in order to have a successful season!
Our congratulations again to our three young internationals, and we thank them all for taking the time to speak to us.
#oneclubonegoal