2023-03-02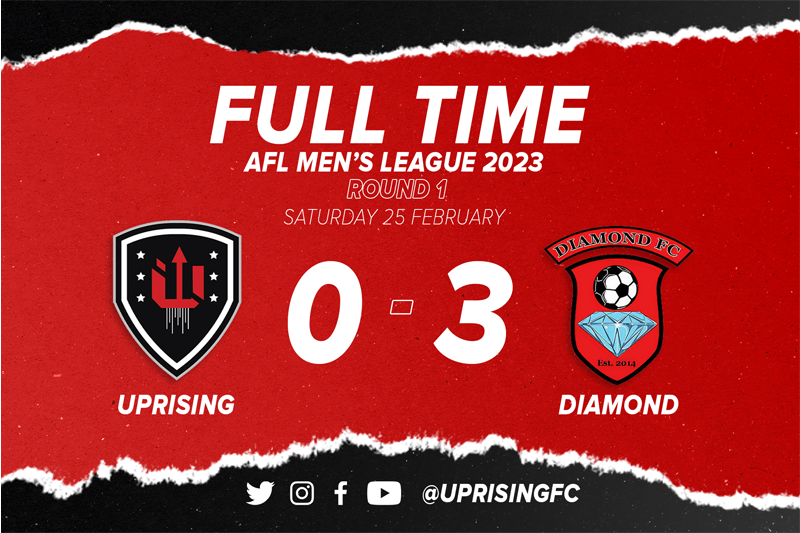 A DEFEAT BUT BEST PERFORMANCE OF THE SEASON
On Saturday 25th February 2023 we took on Diamond FC in our seventh game in this season's AFL Senior Men's League.
There were two big pieces of news before kick off with our usual first choice goalkeeper, Darian Carty being selected to play as a striker, Keronni Vanterpool chosen to play in goal, and the inclusion of our brand new signing, Te-vaun Richardson. Te-vaun has previously played for Spartans FC and Salsa Ballers, and we welcome him to our club.
So, onto the game, yes, we ended this game in defeat, but our performance was a very encouraging one and must be ranked as our best so far this season. We attacked well, strung our passes together, and after being 3-0 down at the break, we defended very resolutely in the second half.
The first real action of the game came in the 6th minute when Tre Gumbs unleashed a thunderbolt from long range which was excellently tipped over the bar by the Diamond FC goalkeeper. In what was an excellent start to the game by the boys we again went close on the quarter hour mark when a Jordan Deans free-kick found Roshani Gumbs-Richardson at the back post, but he could not quite got a shot away.
Slightly against the run of play, Diamond took the lead on 24 minutes when Jared Smeins struck a low shot past Keronni Vanterpool from 18 yards out. Five minutes later, our usual goalkeeper Darian Carty who was acquitting himself very well on the night as a striker, produced a great run down the right wing but his cross was well held by Brooks in the Diamond goal.
Searching for an equalizer, we were punished on 28 minutes when we over committed players to an attack which led to Diamond going 2-0 up courtesy of a counterattack goal. On this occasion it was Deakwan Romney with the goal for his side. We again rolled our sleeves up and took the game to our opponents. Tre Gumbs who was having a great first half found Denny Derrick with a brilliant cross, but Denny's header went narrowly past the post.
On the stroke of half time Diamond made it 3-0 with another well taken goal by Jared Smeins.
Diamond almost increased their lead on 55 minutes when a goal mouth scramble in our penalty area resulted in our hard-working defenders clearing the ball to safety.
A quieter period followed and then on 71 minutes Keronni Vanterpool produced a fine save to deny Diamond from scoring. Keronni then impressed again on 85 minutes this time with an excellent double save. First, he pushed away a long-distance strike and then he was quick off the mark to deny our opponents from converting the rebound – a great piece of goalkeeping! This was the real piece of action from the game.
So, a defeat but loads of positives to take into the reminder of the season.
POTM – Keronni Vanterpool. A very good performance from the youngster who is improving with every game he plays.