2023-02-14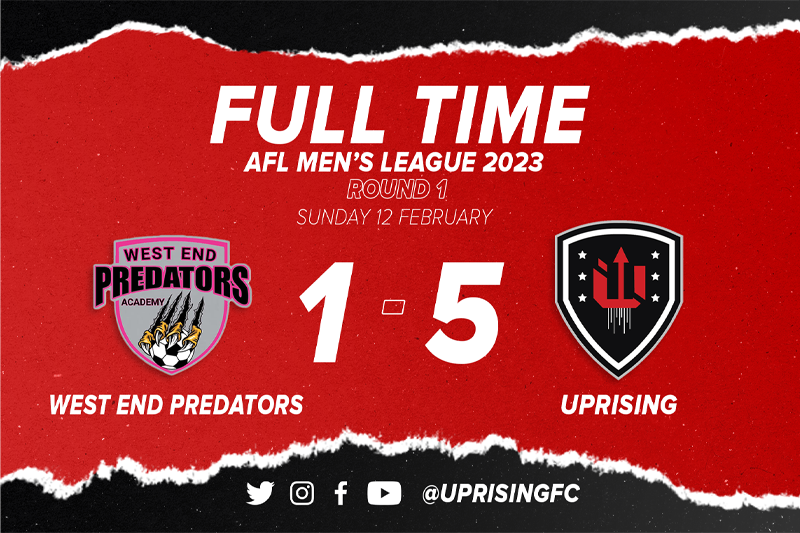 FIRST WIN OF THE SEASON & TRE PROVES HE'S A REAL MAN!
On Sunday 12th February we played our fourth game in the 2023 AFL Men's League. Our opponents on the day were West End Predators and after a superb display of attacking football we recorded our first win of the season, 5 goals to 1! So, that explains the first part of the headline, the second part, well, more later.
We started this game by giving a debut in goal for Keronni Vanterpool who replaced our regular custodian, Darian Carty as he was struggling with a slight muscle strain. It is comforting to know that we have strength in depth in this important position.
The lads made a good start to this game and early on, Defari Francis made a great run down the wing before crossing the ball into the W.E.P. box only for it to be cleared by one of their defenders. Despite the good start we had to be wary of the threat posed by our opponents and this was proven when just a minute later they had appeals for a penalty waved away by the referee. Jordan Deans then went close with a long range effort and shortly after, Asharn Hodge headed wide of the target following a good cross into the box.
Again, W.E.P. were proving to be a threat on the break, and only a superb last ditch challenge from Nathanial Gumbs prevented them from having a great opportunity to score on 19 minutes. Moments later we took the lead courtesy of a superb 30-yard screamer from the right boot of our Player/President Tre Gumbs! A stunning strike which was accompanied by some of the best commentary you will hear anywhere in the world. As Tre turned away to celebrate the commentator said – "Vintage Tre! That looked like the Tre of 1942 when he was a real man!" You can see the video of Tre proving that he is a real man accompanied by the commentary on our socials!
On 28 minutes we came very close to making it 2-0 when there was an almighty scramble in the W.E.P. box, several of our players tried shots at goal but they were blocked each time. Two minutes later, man of the moment, Tre Gumbs swung in a corner from the left which came off the top of the cross bar! We eventually and deservedly double our lead in the 34th minute when Defari Francis picked up the ball just inside the opposition half, sprinted forward beating his marker and rifling an unstoppable long range shot into the top corner of the goal! A brilliant goal by a young man with lots of talent!
On 39 minutes, Jordan Deans tried to join Tre and Defari in scoring a long range special, but his well taken effort was saved by the W.E.P. goalkeeper. Our opponents then launched a counter attack and reduced their deficit with a well worked move that saw Emanie Amedee providing the finish. Game On!
A quiet period of play followed the W.E.P. goal but shortly before half time we restored our two-goal advantage. Jordan Deans beat two players down the left wing before crossing into the box with a W.E.P. defender's attempted clearance ending up in the back of the net! There was just about enough time for another Uprising effort on goal, this time Denny Derrick with a shot which was well saved by the goalkeeper.

Half Time Score: Uprising 3-1 West End Predators
We made an excellent start to the second period when Jordan Deans shot narrowly wide of the post before Delani Francis made it 4-1 in the 48th minute. Another long range strike like Tre and Defari, on this occasion Delani went past his man before finding the bottom corner of the goal from 20 yards out – yet another outstanding goal on a brilliant night for the boys!
We piled on the pressure with chances coming but not converted by Defari Francis, Delani Franics, and Colyn Cannonier. We also still had to be on our guard defensively and received a let off when Predators missed a good chance to reduce their arrears on 70 minutes. Four minutes later, Denny Derrick had a shot well saved and then Matthew Brown who was making a welcome return to action from injury had a fierce shot held by the goalkeeper.
We eventually grabbed our fifth goal on 85 minutes with Delani Francis securing his second brace in as many games with our fourth goal of the evening from outside the box! Another superbly taken strike which capped off a fine evening for everyone at Uprising FC!
Final Score: Uprising 5-1 West End Predators
POTM – Delani Francis and Defari Francis! Two excellent all-round performances from these very talented brothers!