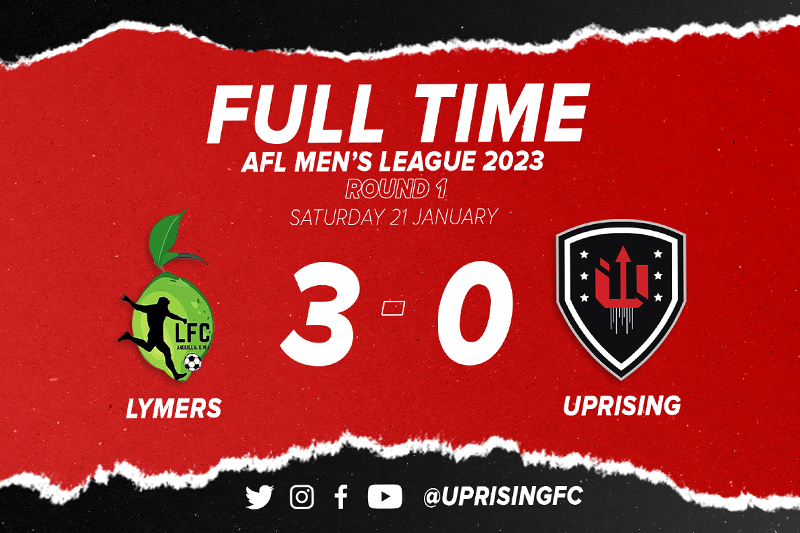 OPENING DAY DEFEAT
On Saturday 21st January, we played our first game of the 2023 AFL Men's League season against Lymers FC.
There was lots of excitement ahead of this fixture as it would be the first time our team would have the chance to wear our fantastic new kits kindly sponsored by Surprise Shirts. This was an historic day for our club and despite us going on to lose the game it will always live long in the memories of club officials, players, and supporters alike.
On the pitch, it is fair to say that things didn't turn out the way we had wanted them too. However, the majority of the first half was quite an even encounter with Uprising having long spells of possession but without really causing Lymers too many problems. For their part, Lymers always looked a threat on the break.
We were indebted to a wonderful save by our young custodian, Darian Carty who somehow managed to claw away a shot in the 15th minute to keep the game all square. Darian was excellent throughout the game and produced an excellent display of goalkeeping. A few minutes later, Defari Francis tried his luck with a long range shot which was saved by the Lymers goalkeeper.
On 31 minutes some excellent individual play by Muhaiyuddeen Abdul-Ali saw him being fouled by a Lymers defender, earning Uprising a free kick 25 yards out from goal. Jordan Deans took the set piece but unfortunately his shot sailed over the bar.
It was looking that the game would remain goalless as the minutes ticked away towards half time but late in the first period, Nathaniel Gumbs was judged by the referee to have a fouled an opponent in our penalty area. A penalty was awarded and to make matters worse Nathaniel was sent off after receiving a second yellow card. Ryan Liddie took the spot kick and despite Darian diving the right way, he was unable to prevent the ball from going into the corner of the goal.
Going down to ten men meant that it was now going to be an uphill task for the lads to get back into the game and this was proven in the 50th minute when Lymers doubled their lead courtesy of a goal scored by Rochard Grant. Things went from bad to worse five minutes later as Lymers went 3-0 up, Armoni Gumbs with the goal.
To our credit we worked hard to prevent Lymers from scoring anymore goals, and with ten men this has to be seen as a positive and something to take from the game. We also carried a threat going forward and went close on a couple of occasions with efforts on goal by Rene Thomas and Jordan Deans.
So, an opening day defeat but a football season is a marathon and not a sprint meaning there will be plenty of opportunities for the lads to secure the type of positive results that we know they are more than capable of.
Final Score: Lymers 3-0 Uprising
Uprising POTM: Darian Carty - excellent goalkeeping!