2022-12-09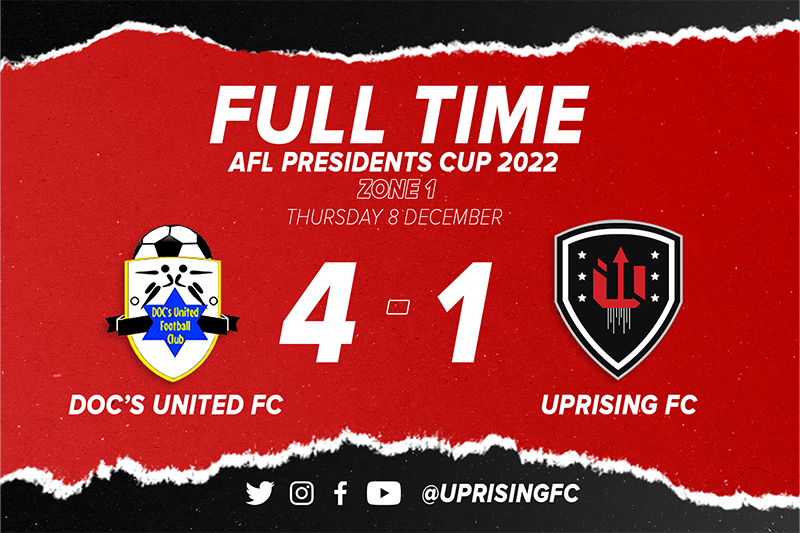 FIRST DEFEAT BUT PLENTY OF POSITIVES
The evening of Thursday 8th December 2022 saw us playing our third Zone 1 game in the 2022 AFL Presidents Cup. Our opponents were the talented Docs United, a tough game but we knew that if we won then we would cement our place in the semi finals of the competition with a game to spare. Alas, that win did not materialise, but our performance was far from disappointing, quite the opposite as we were able to take plenty of positives from the game.
We started the game in an attacking fashion and in the 2nd minute, Jauron Gayle broke clear of the Docs defensive line. However, in what was a very promising situation, the assistant referee deemed Jauron to be offside.
In the 5th minute, our opponents went on the attack for the first time in the game and were denied by an amazing double save by our talented custodian Darian Carty. Three minutes later, Docs had a goal ruled out for offside and shortly after they saw a free kick sail narrowly wide of our far post. Docs were enjoying a good period in the game, but we were solid in defence and looked to attack at any given opportunity. This was proven when Defari Francis sprinted down the wing only for his telling cross to be cleared by Docs.
Uprising were now beginning to get a foothold in the game and were keeping possession with some crisp neat passing. However, Docs were still looking dangerous, and we had Ramos to thank for denying them from scoring in the 32nd minute with a fantastic last-ditch tackle. One minute later, a long ball from the Uprising midfield found the talented feet of Jauron Gayle, Jauron held the ball up superbly and after beating one defender was then fouled to provide us with a free kick just outside the Docs penalty area. Jordan Deans stepped up to take the free kick and his trusty left foot forced the Docs goalkeeper into a save.
The deadlock was broken on 41 minutes when Sylvanus James put Docs one goal to the good. James broke clear of our defence and rifled an unstoppable shot into the roof of our goal. A good goal it must be said but it was a shame for us to concede as we had been resolute throughout the opening period. Unfortunately, things got worse just a few minutes later when Docs were awarded a penalty after Darian Carty was deemed to have brought down Sylvanus James. Jermaine Ricketts took the resulting spot kick and found the bottom left corner to give his side a two-goal lead.

Half Time Score: Docs United 2-0 Uprising

Despite the disappointment of going down to two late first half goals, Uprising came out battling in the second half and looked to put Docs under pressure. Sadly, we couldn't create any real goal scoring opportunities and we were kept in the game in the 56th minute by another superb save by Darian Carty. Unfortunately, there was nothing Darian could in the 65th minute to prevent Docs from increasing their lead, De-Andre Marshall with the goal. Things got even worse for Uprising when just a minute later Docs went 4 goals up courtesy of a goal scored by Sylvanus James.
To our immense credit we never once let our heads drop and our hard work was rewarded with a goal in the 74th minute by Jauron Gayle. This was Jauron's fourth goal of the 2022 AFL Presidents Cup, and he secured it by chipping the Docs goalkeeper from 20 yards out – a superb finish!
We continued to battle on for the remaining fifteen minutes of the game and defended our goal well to keep the scoreline the same.
So, even though we tasted defeat for the first time in the season's Presidents Cup we must be happy with the performance of our players which showed plenty of positives and provides lots of optimism for the future.

Full Time Score: Docs United 4-1 Uprising