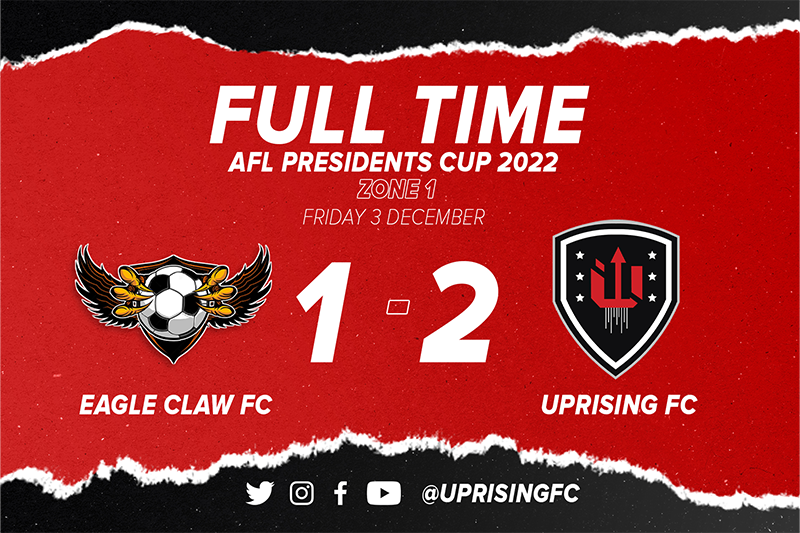 TWO WINS FROM TWO GAMES
On Friday 2nd December we played our second game in this year's AFL President Cup. This was the rescheduled game against Eagle Claw, after the original date for the game was postponed following the sad passing of the mother of AFA President, Girdon Connor. We would like to take this opportunity to again pass on our best wishes to Girdon and his family at this sad time.

We went into this game against Eagle Claw with high confidence following our opening game victory over Spartans by 3 goals to 2. We made a promising start to proceedings, taking the game to our opponents. In the third minute of play we saw a goal ruled out for offside, but despite this disappointment it was great to see our attacking intentions. One minute later, our young goalkeeper, Darian Carty had to be alert when he rushed from his line to clear the ball to safety a split second before an Eagle Claw player got his toe to the ball.
Darian again had to be quick in the 15th minute when he rushed from his goal to try and clear another through ball. However, this time the Eagle Claw player got his foot to the ball first but thankfully it rolled harmlessly wide of goal. Two minutes later we created a great opportunity to score when the ball was fired in from our left, the goalkeeper fumbled the ball but unfortunately the ball would not quite drop to an Uprising player. If it had, then we had an empty net for us to put the ball into!
On 24 minutes, Eagle Claw created their best opportunity of the game when a long cross from the left evaded Darian Carty which then saw an opposing player shooting high over the bar from close range – a big let off for Uprising! Our opponents were now putting us under a lot of pressure, but we kept our composure and defended well, Rachad Thomas in particular was putting in a lot of noteworthy tackles. We then had strong appeals for a penalty when a long through ball found the speedy Jauron Gayle who appeared to be fouled in the Eagle Claw box when he was just about to shoot at goal, however, the referee deemed it to be a fair challenge.
Jauron again went close to scoring in the 29th minute when he saw his close-range shot being saved by the Eagle Claw goalkeeper, the resulting rebound was deflected wide of goal for an Uprising corner. Our set piece specialist, Jordan Deans took the corner which on this occasion came to nothing. Shortly afterwards, Dindin fired in a long range shot which was well saved by the opposing custodian.
A quieter ten minutes or so followed with both teams having decent spells of possession. In the 45th minute, a fine solo run by Eagle Claw's Robinson ended with him shooting at goal but thankfully Darian was well placed to make a comfortable save. Then, on the stroke of half time we opened the scoring, a great cross from the Uprising left was missed by the goalkeeper which enabled Dindin to score with ease, his first goal for the club!

Half-Time: Eagle Claw 0 - 1 Uprising FC

After five minutes of play in the second half, Defari Francis created a half chance for himself when he beat his marker on the left flank only to shoot straight at the goalkeeper. Our opponents responded well by putting some dangerous balls into our box which we defended comfortably. Then, Jordan Deans saw his effort sailing narrowly over the bar, a fraction lower and it would have doubled the scoring for Uprising.
Eagle Claw then went on the attack and piled the pressure on us by winning two corners in quick succession. Darian did very well the to punch the second one away from danger which then saw an opposing player shooting wide. Our opponents continued to press and levelled the game in the 55th minute when Devin Harvey scored what must be said an excellent equaliser. Harvey picked up the ball in the middle of the field, drove forward and chipped Darian with a shot from fully 40 yards from goal. Sometimes in football you just have to say well played and this was one of those times!
In the 58th minute a good move from Uprising ended with Defari Francis making the keeper work with a long-range shot – a good response after conceding the goal by the boys! In what was now an entertaining end to end game, Eagle Claw then saw a good chance go begging when a shot went wide of the target.
On 70 minutes, Johnson for Eagle Claw volleyed a shot straight into the grateful arms of Darian. We responded immediately when a long ball from Defari Francis found DinDin on the edge of the area, Dindin was being put under a lot of pressure and because of this he couldn't get a clean strike in at goal.
In the 74th minute, a superb cross from the right by Jordan Deans was almost headed into his own net by an Eagle Claw player only for their goalkeeper to punch the ball to safety. Three minutes later, we had to thank Matthew Brown for some great defending when he was able to deflect a dangerous low cross over the bar for a corner to our opponents.
Not surprisingly, the pace of the game slowed as we went into the final ten minutes, both sides had certainly put a lot of effort in and that was probably the reason for the game slowing down a bit. However, the fitness of our players is to be very proud of and that showed when we scored what turned out to be the winning goal in the 90th minute. Jordan Deans found Jauron Gayle, Jauron beat his man and produced a fine shot to beat the goalkeeper with the ball nestling into the net! Wild celebrations followed and we hung on to our lead to secure a vital three points!
Final Score: Eagle Claw 1 - 2 Uprising FC