2022-11-24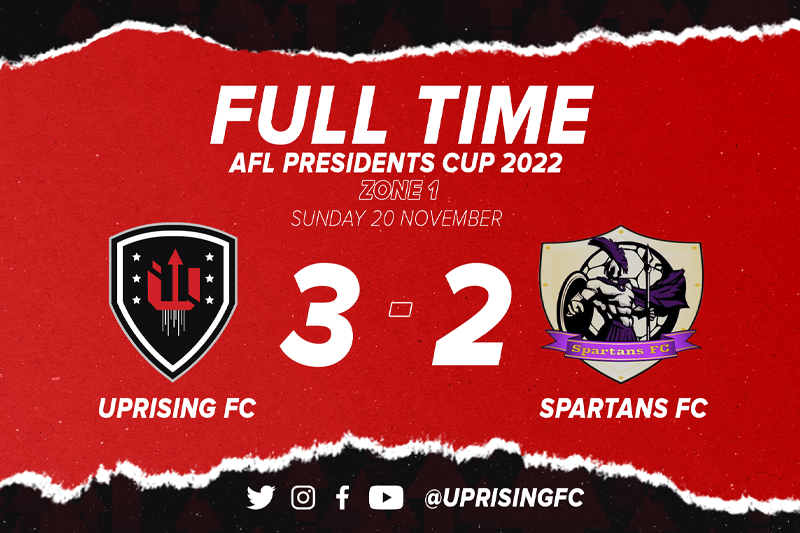 FIRST GAME & THREE POINTS IN THE BAG
On Sunday 20th November we played out first game in Zone 1 in the 2022 AFL Presidents Cup against Spartans FC.
There was much excitement in the build up to the game due to us just hours prior to kick off announcing the signings of nine new players! Four of those new signings, Delani Francis, Defari Francis, Antoine Fleming, and Muhaiyuddeen Abdul-Ali (DinDin) were selected by Head Coach, Chavoi Gumbs to start the game.
After being put under pressure by Spartans in the opening seconds of the game, we started to make an impression ourselves and created some decent chances in the first 15 minutes of proceedings. Having gone close on several occasions we eventually took the lead on 15 minutes, Jordan Deans who was impressive throughout the game, found the speedy Jauron Gayle with a delightful pass, Jauron fired a shot past the goalkeeper to put us 1-0 up!
It was 2-0 to Uprising on 23 minutes and it was that man again Gayle who found the net, this time with a close-range finish following a mistake by the Spartans custodian. We were now playing some excellent football and looked to attack at every opportunity! Our fine play saw us taking a 3-0 lead when Jordan Deans floated in a free kick from the right, Asharn Hodge headed the ball towards goal which was then bundled into his own net by a Spartans defender who was trying to clear the danger.
Despite going three goals behind, credit must go to our opponents who battled on and they managed to reduce their arrears with a goal of their own, coming quickly after our third, courtesy of a well worked free kick routine finished off by Benjamin.
Shortly before the break, DinDin tried his luck with a long range shot which was well saved by the Spartans goalkeeper. That looked to be the last of the action but on the stroke of half time, our opponents were reduced to ten men when they had a man sent off for a dreadful challenge on Asharn Hodge. Thankfully, after receiving treatment, Asharn was able to carry on playing.
Half Time Score: Uprising 3-1 Spartans
Despite being down to ten men, Spartans went straight on the attack in the early stages of the second half. Asharn Hodge denied them a scoring opportunity in the 47th minute with a last-ditch tackle but our opponents scored their second of the game one minute later. It was Benjamin with his second of the game for Spartans, this time with a well-placed header.
We went straight on the attack ourselves after the restart and Matthew Brown saw his shot going wide of the post after a good build up. Following this effort, the game went very scrappy and was a stop start affair due to the number of substitutions being made by both sides. We never looked in any danger, but we had to be aware of Spartans when they attacked our goal. This was proven when Nathaniel Gumbs produced a superb trademark tackle to deny a Spartans player going clean through on goal in the 82nd minute.
On 86 minutes, Antoine Fleming almost grabbed himself a debut goal, but his shot was saved by the Spartans goalkeeper. One minute later Spartans were reduced to nine men when the referee sent one of their players off for descent. We kept our composure and kept the ball well for the remaining minutes of the game to secure all three points from our opening game in the 2022 AFL Presidents Cup.

Final Score: Uprising 3-2 Spartans