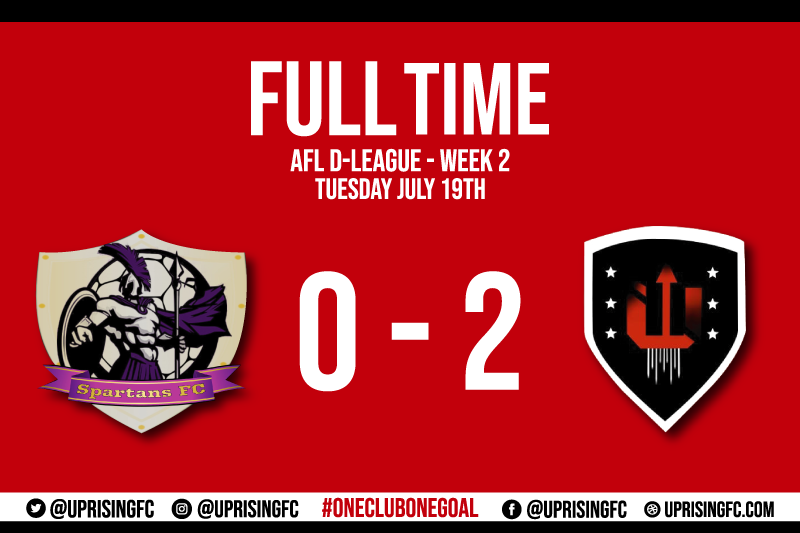 UPRISING MAKE FLYING START TO D-LEAGUE CAMPAIGN
Our first game in the 2022 AFL D-League competition saw us taking on Spartans FC at the Raymond E. Guishard Technical Centre. After such a long layoff from our last competitive game, it was great to get back out on the pitch and play again.
We were boosted before the game with four new signings, Jauron Gayle, Jordan Deans, Erick Gowkarran and Colyn 'Brad' Cannonier who have all added some extra quality to our squad, indeed that word quality, is one that can be used to describe our overall team performance against Spartans.
The opening fifteen minutes of the game were quite tight with neither side being able to create any goalscoring chances. The first effort of any real note came in the 23rd minute when one of our debutants, Jordan Deans tried his luck with an outrageous curling strike from the right flank which went narrowly over the bar. Just one minute later, we opened the scoring with a brilliant solo goal from Keonandrew Alexander. The number 12, started a run on the right hand side, beat two opponents and fired an unstoppable shot into the bottom left-hand corner of the goal, a really excellent goal!
We were well worth our lead having played some great football at times and what was also very noticeable was everybody was working hard for one another, a great team spirit which was a delight to see.
There was a break in play six minutes before the break when debutant, Erick Gowkarran went down with an injury, he tried his best to continue but had to leave the field a few minutes later, we wish Erick all the very best for a speedy recovery.
Spartans started the second half very brightly and in the 46th minute created a golden opportunity to equalise but our talented young goalkeeper, Darian Carty saved the day with a terrific save, definitely one of the saves of the season! Our opponents created another good opportunity just ten minutes later but this time we were saved by a goal line clearance from Rachad Thomas.
Despite being put under pressure we kept our composure and were able to double our lead in the 57th minute. We were awarded a corner on the left which was swung into the box by Jordan Deans who has a magic wand of a left foot, the ball was met by the head of Asharn Hodge, Ash rose above his marker to head home from close range.
Spartans were still looking dangerous and in the 66th minute they forced another fine save by Darian Carty who wisely pushed a fierce shot away from the goal. Our opponents again created another great chance shortly after but were thankfully not able to capitalise.
There was a worrying moment in the 75th minute of play when Darian went down with an injury but thankfully, he was able to continue after receiving treatment. Spartans were still pushing for a goal, but some excellent defending prevented them from getting back into the game.
After weathering the storm, Rene Thomas went close to putting us 3-0 up in the 88th minute, his left footed volley sailing narrowly over the bar. That was the last real goalscoring opportunity and we were able to hold onto our advantage over opponents, who had a player sent off in injury time.
So, a great start to the D-League for the boys and we now look forward to our next fixture.