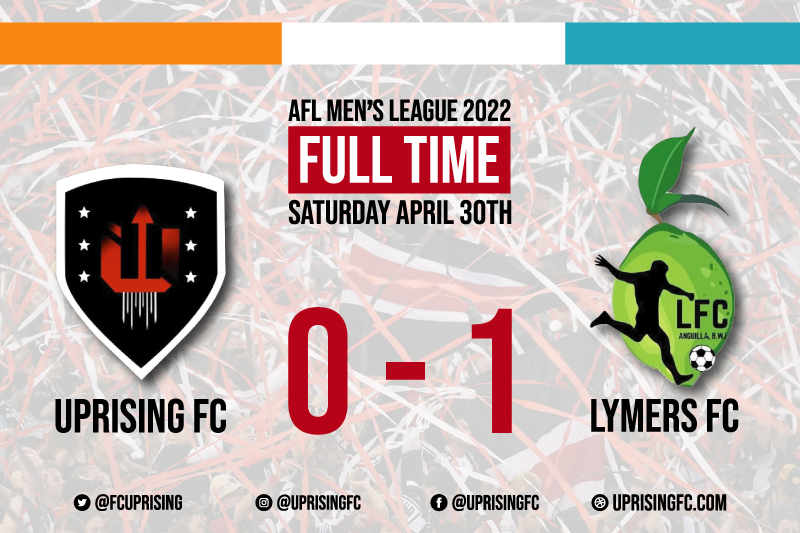 Uprising Fall to Narrow Defeat
On Saturday 30th April we played our sixth game in the 2022 AFL Senior Men's League against Lymers FC. Before the game we were sitting in fourth position in the league table, with our opponents one point and one place better off than ourselves. This always looked like it was going to be a tricky game and so it proved to be.
We started the game very well and looked impressive on the ball, passing with confidence, and looking to go forward at every opportunity. Yariel Fleming was showing some brilliant touches on the ball which was causing our opponents some problems. Sadly, we were to lose Shakeem Lewis to a knee injury in the opening exchanges and we wish him well for a speedy recovery.
The first chance of the game came on 12 minutes and saw our hard-working midfielder, Denny Derrick trying his luck with a long range shot which was tipped over the bar by the Lymers goalkeeper, Danniell Bailey. Eight minutes later, another good passing move from the boys saw us putting Lymers under pressure but they defended their goal very well. Almost immediately after this, our opponents broke up to the other end of the pitch but they were denied by an excellent piece of brave goalkeeping by Darian Carty.
It must be said that Lymers were now the team who were in control of the game and on 23 minutes they saw a free kick go just over our bar and three minutes later they flashed a shot across our goal which went narrowly wide. The pressure from our opponents finally told when they took the lead on 31 minutes. A free kick was floated high into our penalty area which our goalkeeper, Darian Carty pushed away but unfortunately the ball fell to Vandrick Herbert who slotted the ball into the goal from twelve yards out.
Lymers almost went 2-0 up just a few minutes after taking the lead but they were denied by a great smothering save by Darian. The last action of the first half came in the first minute of stoppage time when Rene Thomas tried a long range shot which went wide of the target.
Half Time Score: Uprising FC 0-1 Lymers FC
We made a good start to the second half and in the fifth minute of the second period, Tre Gumbs sent in a delightful corner from the left which was headed behind by a Lymers defender. The resulting corner from Rene didn't come to anything put this was some good early pressure that we were putting on our opponent's goal.
Lymers were also still putting us under pressure and a good move by our opponents in the 54th minute saw them shooting wide of our goal. They followed this up by going even closer in the 60th minute when we defended our goal very well in what was a real goal mouth scramble. Three minutes later, another corner from the left by Tre found Denny Derrick in the Lymers penalty area but his clever flick at goal went just over the bar.
On 68 minutes there was a long stoppage in play due to an accidental collision between Darian Carty and Lymers player, thankfully both were able to continue to carry on playing after receiving treatment.
Uprising Line Up:
30) Darian Carty 5) Adrian Carty, 20) Ea-Rhon Rogers (15. Nathaniel Gumbs, 60) 28) Rachad Thomas 2) Yariel Fleming 6) Denny Derrick 7) Javis Jones 10) Rene Thomas ( c ) 13) Tre Gumbs (29. Alexander Nathaniel, 60) 16) Shakeem Lewis (25. Kymani Hodge, 7) 17) Matthew Brown