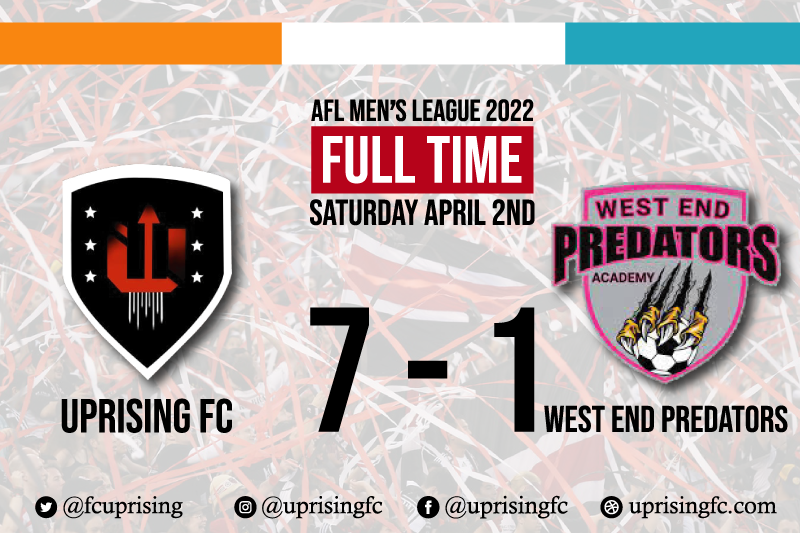 UPRISING RETURN TO WINNING WAYS
On Saturday 2nd April we returned to match action after the completion of the international break. This was a very important game for the boys as we had lost our previous two games against Docs United and Roaring Lions respectively. We were all hoping for a good performance and a win, and that is eventually what we got!
Uprising kicked the game off but despite going onto win the game, we got off to the worst possible start when Asharn Hodge was adjudged to have brought down the Predators number 7, Emanie Amedee in the penalty area. Referee, Kervin Benjamin awarded the penalty kick to Predators and Amedee stepped up to dispatch the ball low to the right past Darian Carty to give Predators the lead after 5 minutes.
Straight after the restart, we put together our best passing move of the game so far which ended up with Yariel Fleming delivering a dangerous low cross into the Predators penalty area, unfortunately for us it was dealt with by the Predators defence. Just two minutes later, Denny Derrick created a crossing opportunity for himself down the Uprising right but his cross was cleared by opposition.
In the 9th minute, a good move again down the Uprising right saw Rachad Thomas delivering a fantastic out swinging cross into the penalty area, unluckily for us the ball fell just behind Deon Burton who could not quite adjust his body to get a header in on goal. However these were encouraging signs after going a goal down so early on in proceedings. Despite this, Predators were still looking dangerous themselves and were having a decent amount of possession. This was highlighted in the 12th minute of play when Alwyn Richardson was put clean through on goal and only good anticipation by Darian Carty prevented the Predators player from getting a shot in at goal. Almost immediately, Amedee tried his luck from a tight angle and we were relieved to see his shot flash wide of the target. A third chance in quick succession fell to Predators on 13 minutes when Moises Madrigal saw his close range effort go wide of the near post. It would be an understatement to say that Predators were the team looking more likely to score at this point.
In the 21st minute, Predators were mysteriously awarded a second penalty of the game when the referee decided that our goalkeeper Darian Carty had fouled Huekeemi Hughes in what was an innocuous looking challenge. However, and as we all know, the referee's decision is final and Predators were presented with a golden opportunity to increase their lead. Awlton Brookes stepped up and we were delighted to see his penalty kick go wide of the left hand post. Could this be the moment when we upped our play and started to get ourselves back into the game!
Sadly for us it was still our opponents who looked like being the most likely team to score and on 24 minutes Madrigal put a shot wide of the target when he perhaps should have done better - we were certainly living dangerously at this point! However, football is a funny game and we then started to get a hold of the game with some good periods of possession which culminated in us winning a penalty kick of our own in the 34th minute. Rene Thomas was found in space on the right and cut into the penalty area, Rene was trying to create a shooting opportunity for himself but was fouled by his marker. This was the chance we needed to get back into the game, Rene stepped up and dispatched the penalty with ease to get us back on level terms. There was little by the way of celebrations as we had not been at our best but this moment put us back in the game!
The game was turned completely on it's head just three minutes after we had equalized. Uprising were awarded a corner on our right, Rene delivered a superb in swinging corner which was met by the head of Asharn Hodge who made no mistake from close range. Although we had not been at our best we had shown great character to get ourselves in the ascendency. We almost increased our lead in the 42nd minute which would have been a carbon copy of our second goal! We again were awarded a corner on the right, Rene delivered yet another delightful ball into the box with Asharn heading just wide of the target on this occasion.
The lads were now buzzing and just a minute later, Deon Burton created a shooting opportunity for himself and shoot he did from 20 yards out with the ball being tipped over the bar by the Predators goalkeeper. That was the last real action of a pulsating first half!
Half Time Score: Uprising 2-1 West End Predators
We made a perfect start to the second half by increasing our lead to 3-1 in the 46th minute. Yariel Fleming found Rene Thomas in space in the Predators penalty area, Rene's first touch took him wide of the goal but he kept his composure and found Deon Burton who finished high into the roof of the net from ten yards out. If you'd have asked most Uprising supporters if they thought this would be the score line after the first 30 minutes of the game then they would probably have thought you were joking. However, time and time again the boys show immense character and a great will to win, and this was yet again evident!
We were now in control of the game and managed to create two half chances soon after scoring our third goal but some good goalkeeping prevented us from increasing our lead. The game then went through a quieter period before Rene Thomas was put clean through on goal in the 62nd minute by a great pass by Javis Jones. Rene was only denied by the Predators goalkeeper, bravely diving at his feet to smoother the ball. Just a minute later, Rene was the provider when Yariel Fleming was put clean through but again, brave goalkeeping prevented us from scoring. However, from the resulting corner we did get our fourth goal of the game when Tre Gumbs delivered an excellent cross with the ball being headed home by Asharn Hodge for his second goal of the game.
On 68 minutes we were awarded our second penalty of the game when Asharn was sent flying from a push in the back following another good corner taken by Tre. Rene Thomas again stepped up to take the spot kick and he blasted the ball straight down the middle of the goal to put us 5 goals to 1 in front. What an amazing turnaround! Just a minute later, Javis Jones found Antoine Laurent in space but his shot was placed straight against the Predators goalkeeper.
In the 76th minute there was high drama in the Predators penalty area when we went close to scoring on four separate occasions in quick succession. We had a shot saved and then one blocked before Rene Thomas crashed a shot against the underside of the bar with the rebound falling to Antoine Laurent who shot wide of the target - an amazing period of play! There was then a downer on proceedings when our right back, Rachad Thomas was sent off for a second bookable offence. Despite going down to ten men it did not dampen our spirits and we continued with our fine attacking play. Almost immediately after going down to ten men we again saw a shot hitting the bar, this time courtesy of an excellent effort by Denny Derrick. This second half was probably some of the finest attacking play we had shown thus far this season!
Another good chance fell to Antoine Laurent in the 83rd minute but he was unlucky to see his low shot just clip the far post before bouncing to safety. However, we didn't have to wait long until we scored our 6th goal of the game. A Tre Gumbs Corner in the 84th minute found Rene Thomas at the far post who completed his hat trick with a close range header. This wasn't the end of the scoring as we scored a 7th goal on 88 minutes to complete the scoring. It was that man again, Rene Thomas who scored his 4th of the game by expertly lobbing the Predators goalkeeper after being found in space by a great pass from Tre Gumbs. This capped off a memorable game for both Rene and the team as a whole!
Final Score: Uprising 7-1 West End Predators
Uprising Line Up:
30.Darian Carty 3.Asharn Hodge 27.Chavoi Gumbs (13.Tre Gumbs 46min ) 28.Rachad Thomas 2.Yariel Fleming (16. Shakeem Lewis 68 min) 6.Denny Derrick (12.Keonandrew Alexander 86 min ) 7.Javis Jones 10.Rene Thomas ( c ) 17.Matthew Brown (11.Antoine Laurent 63 min) 18.Rayquan Gumbs (5.Adrian Carty 46 min) 26.Deon Burton
Subs Not Used:
20) Ea-Rhon Rogers