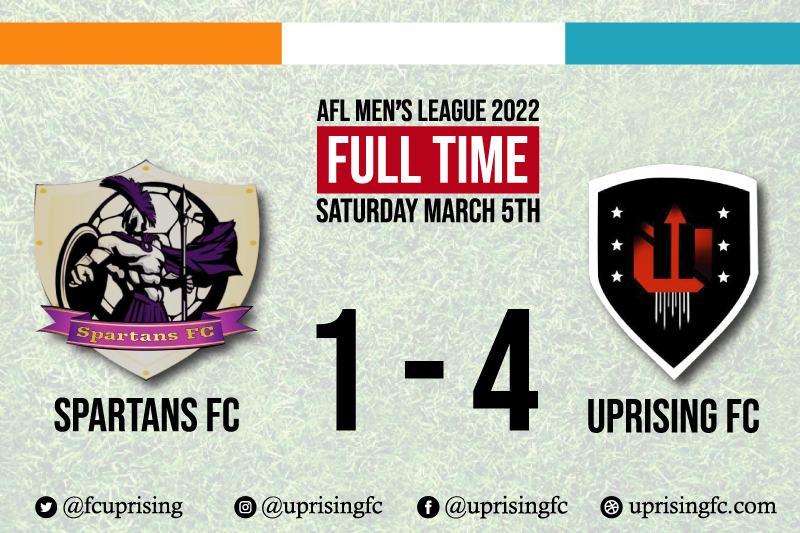 UPRISING MAKE A BRILLIANT START TO THE NEW SEASON
On Saturday 5th March we made our long awaited return to league action when we took on Spartans FC in our opening game of the 2022 AFL Senior Men's League.
This was always going to be a tough test for the lads due to the long covid enforced layoff and the fact that Spartans FC always prove to be tough opposition! This was underlined in the game on Saturday when we fell a goal behind in only the 5th minute of play through Devonta Rouse for Spartans. The ball was crossed in from the right flank to Rouse who finished well past our debutant goalkeeper Darian Carty.
Despite falling a goal behind so early on, Uprising showed their usual battling qualities that we have become very familiar with to get themselves right back into the game in what seemed like no time at all. In the 10th minute of play, Matthew Brown sent a long ball forward which caused panic in the Spartans defence, this presented Yariel Fleming with a golden opportunity to equalise, which he did with a cool low finish past the Spartans goalkeeper from ten yards out.
Uprising were now well on top and nearly went into the lead in the 12th minute courtesy of a shot by Denny Derrick which was well saved by the feet of the Spartans goalkeeper. Despite the near miss we wouldn't have to wait too long before we did in fact take the lead. It was again Matthew Brown with the assist who found Denny Derrick on the right edge of the penalty area, 20 yards from goal. Denny, who is also a professional tennis player unleashed an unstoppable right foot shot, high into the roof of the net to put the boys 2-1 up. You would have to go a long way to find a better goal in World Football from games played at the weekend, a really excellent strike!
Uprising were now playing well and showing a lot of confidence in transitioning play from back to front with some excellent short range passing on several occasions. We were also causing Spartans trouble from set plays, especially corners from the right, Rene Thomas's in swinging corners were a delight to behold as was proven in the 23rd minute of the game and nearly led to us scoring, only to be denied by good defending by our opponents.
Just a few minutes later, it was that man Matthew Brown yet again with a defence splitting pass which found Nathaniel Gumbs in space however, his left shot was well saved by the opposing goalkeeper.
Despite us playing well, Spartans were still well in the game and this was shown on 26 minutes when Calique Julius broke clear of our defence only to be denied by excellent goalkeeping by Darian Carty, Carty saw the danger and was quick off his line to thwart Julius. Ten minutes later, Nathaniel Gumbs again went close for Uprising but his long range shot sailed narrowly over the bar. In what was now an entertaining end to end game, Spartans went close in the 38th minute when a mix up in the Uprising defence presented Thomas George with a chance to equalize. Luckily for us his shot from ten yards out went just wide of the near post.
Just five minutes later, some good play down our left flank ended with Rene Thomas shooting wide of the goal. Just before half time, another mix up in our defensive third saw Spartans having another chance to level the game but thankfully it came to nothing. That chance for Spartans was the last action of a pulsating first half and it meant that we went into the half time break leading by two goals to one.
We started the second half in fine fashion and showed some excellent attacking play but without really creating any clear cut chances to score.
There was high drama in the 54th minute of play when our goalkeeper, Darian Carty handled the ball outside of the penalty area. On another day this could have led to a red card but we thankful to see referee, Fortune Hilton penalising Darian with only a yellow card. The resulting free-kick for Spartans came to nothing and we were relieved to hold onto our 2-1 advantage.
In the 66th minute, the scorer of our first goal, Yariel Fleming again went close but his long range shot went just wide of the far post. I think it would be fair to say that following this attempt at goal that we were in control of the game but without looking like we would extend our lead. We still needed to keep a watchful eye on the Spartans attacking players which we did with our defence being able to deal with any would be attacks from our opponents.
The game wore on and we still maintained our one goal advantage and then extended our lead in the 86th minute of the game. Tre Gumbs sent in an excellent in swinging corner from the left which saw Kymani Hodge heading in from close range. This was the goal we had been looking for and as it came in the latter part of the second half it virtually confirmed our victory. There was another Uprising goal to cheer though when Rene Thomas scored from the penalty spot to complete an excellent 4-1 victory.
An excellent start to the season which sees us in second place in the AFL Senior Men's League table after the first round of matches. Our next game will be against the early leaders of the league, Docs United on Sunday 13th March at 5:00 pm local time.
UPRISING LINE UP:
30.Darian Carty, 3.Asharn Hodge, 15.Nathaniel Gumbs (58 min / 18.Rayquan Gumbs), 25.Kymani Hodge, 29.Alexander Nathaniel (85 min / 16.Shakeem Lewis ), 2.Yariel Fleming ( 84min / 11.Antoine Laurent ), 4.Stephan Fiedtkou, 6.Denny Derrick, 10.Rene Thomas, 13.Tre Gumbs, 17.Matthew Brown ( 70 min / 28.Rachad Thomas )
Unused Subs: 27.Chavoi Gumbs, 8.Davin Fleming, 12.Keonandrew Alexander