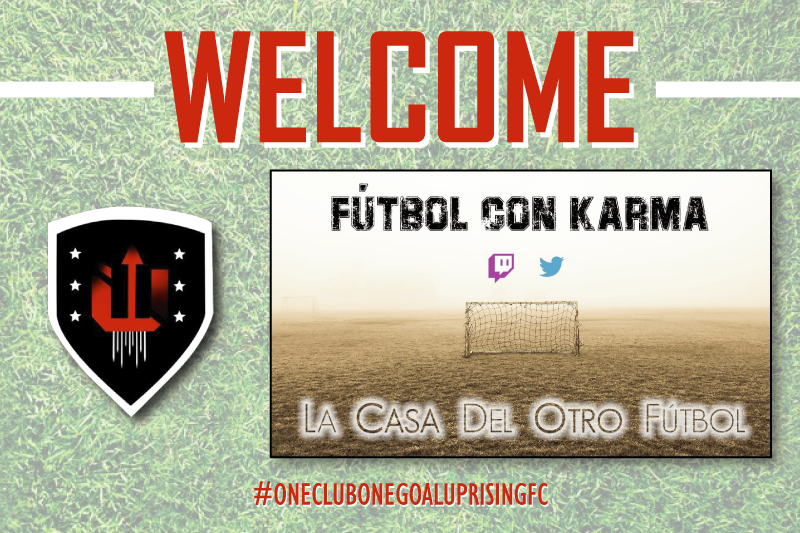 UPRISING FC IN NEW SPONSORSHIP DEAL
As some of you may have already seen on our social media platforms, we are delighted to announce our new sponsor Victor Romero from Fútbol con Karma. This is amazing news for our club and we are very excited about our partnership with Fútbol con Karma. We spoke to Victor to find out more about his time in football and as you will read, he really does have a wealth of knowledge in the game.
First of all thank you so much for sponsoring our club, we really do appreciate your genoristy. For the benefit of our supporters around the world could you please tell me a little bit about yourself?
My name is Víctor Romero, I am a Spanish journalist who works for the mass media MARCA.
My dream has always been to inform and tell stories about what we call 'The Other Football' and that is why I created the 'Fútbol con Karma' brand, more than 13 years ago.
Now, on Twitch, I coordinate La Casa del Otro Fútbol (Home of the Other Football) where we provide and insight to 'other football'.
Thanks to the Community of La Casa del Otro Fútbol and their subscriptions to Twitch we have been able to reach an agreement with Uprising FC.
The agreement is for the entire community with Uprising, right now, our team in Anguilla.
It sounds like you have got an excellent job working for MARCA in Spain and that has enabled you to extend your work by talking about other world football. What is it that fascinates you so much about football around the world?
Fortunately, thanks to my work, I have been able to travel and cover big events, such as the 2019 Asian Cup and also experience first-hand Mauritania's qualification for the 2019 Africa Cup. Another memorable moment was witnessing Gibraltar's first official victory at home, these are just a few examples.
In all these cases, what has always delighted me is seeing how the passion for football does not understand categories or levels. There is a lot of passion and dedication in all of this often 'forgotten' football, but the passion and love for the game is the same.
Football is a universal language and we try to take care of it and transmit it so that more people can become fans of it and can learn to love what happens in world football beyond the elite.
It's like how the old sayings go, "Football is the World Game" and the "Beautiful Game" too! You have truly had some remarkable experiences during your time working in football and as we are a club in the Caribbean, it would be interesting to know what your knowledge is with regards to the game in our part of the world. Have you covered games involving Caribbean teams in the past?
Yes, I have previously covered several Gold Cups in the past and games in the CONCACAF Nations League. I have even covered games in the Caribbean Cup.
Hopefully in the not too distant future we can travel to Anguilla to see Uprising play first-hand and be able to support them from the stands!!! I hope it will be possible!!
That would be amazing and we would be delighted to see you in our homeland. What are your hopes for our club?
Simply leave everything on the pitch. We will be supporting you from all over the world. Come on Uprising!
We would like to to take this opportunity to thank Victor for taking the time to answer our questions and thank him again for his amazing genoristy.