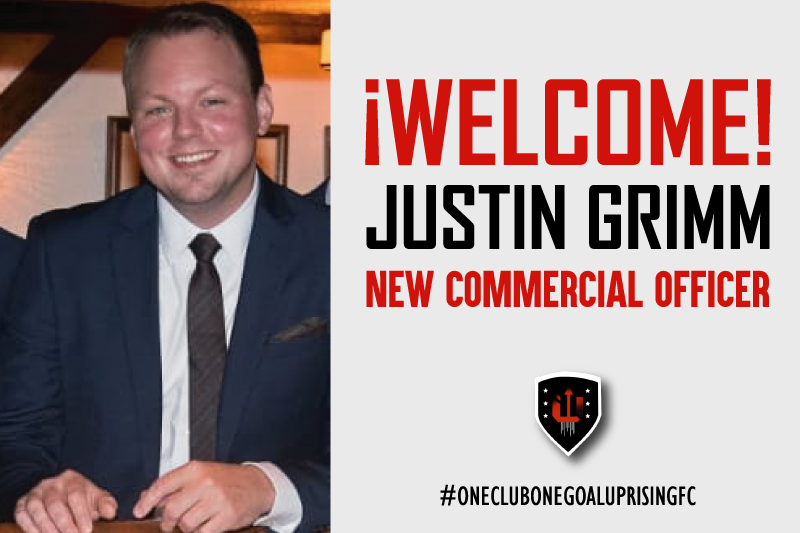 NEW COMMERCIAL OFFICER FOR UPRISING
We are very proud and delighted to announce that we have appointed Justin Grimm as our new Commercial Officer.
Justin lives in Pittsburgh, USA and arrives at our club having gained a lot of experience from working in a lot of football related projects. Justin's role at Uprising will, amongst other things see him trying to attract new sponsorship deals for our club.
We thought it would be a good idea to have a chat with Justin so that he could tells us more about himself.
GT: Justin, welcome to Uprising FC. Can you first of all tell us a little bit about yourself with regards to your love of football, where did it all begin for you?
JG: The first time I watched soccer was the 1998 World Cup. That was my first exposure to the sport because it was not very popular in my area of the US at that time. No one I knew played soccer. I remember being fascinated by the fans because they were so proud of and passionate about their countrries. That really stuck with me. I watched every match I could until eventually it was very easy to follow on TV and online. The sport has become a true passion for me.
GT: From that time in 1998, did you then start following a particular club in the USA or overseas?
JG: My family is German so I have always followed the German leagues. My family is from Baden-Württemberg so I have always supported VfB Stuttgart. I really follow all leagues. I particularly enjoy watching leagues from smaller nations like Anguilla and around the Caribbean.
GT: You and I sing from the same hymn sheet Justin, I love all football too. This brings me onto my next question - I believe that you are the founder of a website that focuses on football in Mongolia, could you tell us a little bit more about this please?
JG: As I said, I've always been interested in teams from exotic locations or ones that are relatively ignored. While trying to find information about football in Mongolia, I learned very quickly that there was absolutely nothing available about it, especially for an English-speaking audience. I had never experienced it to that extent before so I decided to fill the need myself. I've run mongolianfootball.com for about 5 years now. I like to say that "I've accidentally become the expert on Mongolian football". It's been a great experience and I've gotten to know many great people involved in the league and national team. I also contribute Mongolian data to football databases, particularly the RSSSF.
GT: This sounds very interesting indeed, a wonderful thing to do and very rewarding I expect. OK, you also previously said that you have a big interest in Caribbean football too. How did your interest begin in football In the Caribbean?
JG: I live in the CONCACAF region so I've always been aware of the national teams of the regions. I loved the old Caribbean Cup but the new Nations League format has been good so far too. I love that things that may be ignored elsewhere can be a very big deal in the Caribbean. Players getting a trial abroad or finally scoring a goal for their national team are special things. It's a purer football in my opinion. From there I naturally began following the individual leagues and teams more closely. As a member of ConIFA I have been actively trying to extend membership to places not currently a member of a confederation so that those places can gain the same exposure and experiences.
GT: So, is it safe to say that you have been following league football in Anguilla in recent years?
JG: Yes, definitely. I've actually been aware of Uprising FC for a few years now because the club website has been a great source of information for many players in the league.
GT: That is brilliant to hear and it is great to have you working alongside us. What would you like to help our club achieve?
JG: I'm very excited to start working with the rest of the team. Ultimately I would like to do my part and raise funds so that the team can qualify for and participate in the Caribbean Club Shield. I think we can do this by attracting the best players through an organized and professional way.
GT: Exciting times ahead, I'm sure I speak for all at the club when I say that we cannot wait to see what the future holds with you as a valued member of the club. Thank you for taking the time to answer my questions.
JG: Anytime.