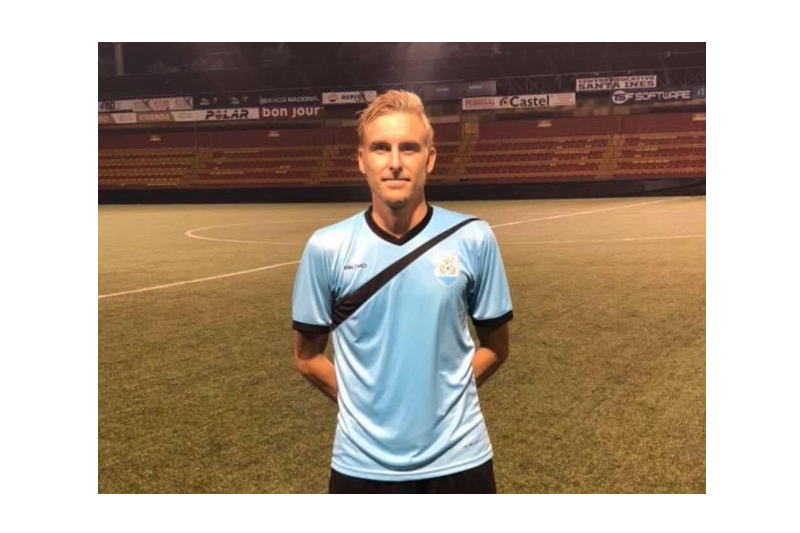 Meet The Players - Matthew Brown
Recently our Media Officer, Gareth Thomas, spoke up with our experienced player, Matthew Brown, for an interview where we asked him about his time in football. This was an extremely interesting interview which we hope all of our fans around the world will find enjoyable.
Age: 32
Place of Birth: Anguilla B.W.I.
Occupation: Landscape Architect
Previous Clubs: Clevedon Town (North Somerset,UK) Roaring Lions (AXA), Salsa Ballers (AXA)
Joined Uprising FC: 2 seasons ago.
International Call ups: I think I'm well over 10 now and over 15 caps at youth level.
GT: Matthew, thank you for agreeing to this interview, I am sure that our supporters around the world enjoy learning about your time in football to date. First of all could you tell me about your experiences of football when you were a youngster. Can you remember the first time you played the game?
MB: The first time I remember playing competitively was at Bristol City FC (England) summer camps. Every summer I would travel to England to stay with my grandparents and basically train everyday.
Growing up like almost every boy in Anguilla I played in the primary school football tournaments and won the trophy 3 times and MVP twice. When I was 12-13 years of age I moved to England for high school education and signed for Clevedon Town colts.
I come from a huge footballing family with an Great Uncle who had even been called up for England so if we weren't talking about football we were watching or playing in the garden destroying all of my Mom's plants!
GT: Matthew's Great Uncle was Vic Brown who played at a high level in England during the 1940's and 1950's.
GT: What a great introduction you had into the game then with a club the size of Bristol City and then Clevedon Town too. Do any of the games you played at this stage really stand out for you?
MB: 12th September 2002 - Clevedon Town Colts 5-2 Weston Crusaders.
MB: I remember this game like it was yesterday! I scored a volley from the edge of the box following a corner. I was so overjoyed that I think it was the first time my Mother heard me say a bad word as I ran off in celebration. But it was emotional for me because at the time I was really struggling to compete with the physicality of the league and playing against older kids, so to get off the mark and score early in the season was so important for me. Back then I was a striker and you are judged on goals so I really needed to score just to gain the trust of my own teammates as well as the coach.
GT: Wonderful memories and thank you for sharing them. Interesting to hear that back then you were a striker, when was it then you began to play as a more defensive player as you do now for us?
MB: I think it's a natural progression for a lot of players as they get older and gain more experience to play a more important role for the team and that usually happens in midfield. By the time i was 17-18 years of age I was playing in midfield and creating goals instead of scoring them. Since then I've played in the number 10 role until about 4 years ago when I was moved to defence at Salsa Ballers.
I hated it but it helped me become more aggressive defensively and we went on to win the league so it worked out well in the end. However, I still feel I am better suited to play in midfield but as a senior player there is no position I haven't played and I always put the team first.
GT: How long did you spend at Clevedon Town before returning to Anguilla and started to play for Roaring Lions?
MB: I was 19 when I returned to Anguilla after my schooling in England. The Lions were as dominant as they are today, we won several championships during my time there.
GT: Was it during your time with Lions that you were first called up to play for Anguilla?
MB: I was selected to train with the national team but never played while at Lions. At youth level I remember traveling around the Caribbean to take part in international tournaments for Anguilla. We were a strong team with players in that group still playing in the league to this day. I played my first full international games whilst I was at Salsa Ballers.
GT: For those of us who will never get to experience playing for our country, can you tell me what it feels like to play international football?
MB: It's something that stays with you forever! The feeling of pride takes over and makes you feel 10 feet tall! But, I would be lying if I said I wasn't nervous before matches because you don't know the opposition players and at times you are playing against professional guys, while we all have normal jobs. When you play international football your teammates become your family for life and I wouldn't trade that for anything!
GT: You describe it brilliantly. Who would you say has been the best team you have come up against when playing for Anguilla?
MB: Nicaragua by far! They had a few players in their team at the time who were playing club football in La Liga and other European leagues. It was like playing against ghosts! They knocked the ball around us like we weren't even there! I believe the score was 6-0. I remember going into that game feeling really confident, that feeling soon faded once the game started.
The best result we ever have had was a 1-1 draw with Bahamas. I think I played one of my best games and we almost won! I was playing right back! They believed they would beat us so easily that after the game the head coach and his staff resigned due to the result. It was hilarious as I was in the room when the coach gave his post match press conference!
GT: Thanks for sharing your memories from playing International football - I know that you were called up to a training session/sessions earlier this year but when was the last time you actually played for your country?
MB: It was about two years ago when I last played for the national team. I sustained a injury last season and was not able to play, because of that I have not been called up as regularly. Plus I'm old now, time for the young boys to push on, but if I was asked to play again I would never say no.
GT: Well, in my opinion, from watching your impressive performances this season I wouldn't be surprised if you got another call up in the near future. Going back to you your club career, you say you joined us two years ago. How did that all come about?
MB: I was playing for Salsa Ballers and the team broke up with players going to various other teams. I had spoken with Tre Gumbs (Uprising FC President) in the past and said if I ever left Salsa I would come and play for Uprising because I saw they were a young team with raw potential that I could help on and off the pitch. I even brought a few Salsa players with me.
I've got a few good years left and I've already started my coaching badges and hope to progress with that. Last year while I couldn't play, Uprising didn't have a coach so I did my best to fill that roll and we ended up winning the Development League title.
GT: And as you rightly say we have a young team with plenty of potential, how far do you think this team of ours can go?
MB: It's a bitter sweet question in all honesty. We have some of the best young players in the country and with this group and maybe another year or so under our belt we most definitely will be challenging for trophies. But with this great young talent comes opportunities for these players to move abroad to advance their own careers in the sport and ultimately turn professional, which is the desire for some of our boys like Javis Jones. So while this would leave our team with gaps to be filled by even younger players it is with great joy that they get these chances to play abroad and make a name for themselves. It is vital for the progression of our national team.
GT: I totally agree with what you are saying to be honest. Whilst as a club it would be great to see our players fulfil there full potential even if it means them playing abroad, it will leave us with gaps to fill. But in saying that it's a great 'problem' to have. What about yourself Matthew, what ambitions do you have left in the game?
MB: I just want to play as much as I can because football is my true passion in life, along with helping as many young players develop with my experience as possible. I want to see an Anguillan player playing in the English Premier League or the MLS in the USA. Only time will tell!
After I retire I'll still be involved in this game. I'm not going anywhere!
GT: All at the club would like to thank Matthew so much for agreeing to this interview - following the interview he told us another piece of information that we thought we would share with our fans.
MB: Most of my family support Bristol City in England but my Father and I have a London derby rivalry as he's a Arsenal supporter and I'm Chelsea supporter.
One of my most treasured moments was traveling to Baku, Azerbaijan to watch the 2019 Europa League Final between Arsenal and Chelsea with my Father. It was a really unforgettable experience.