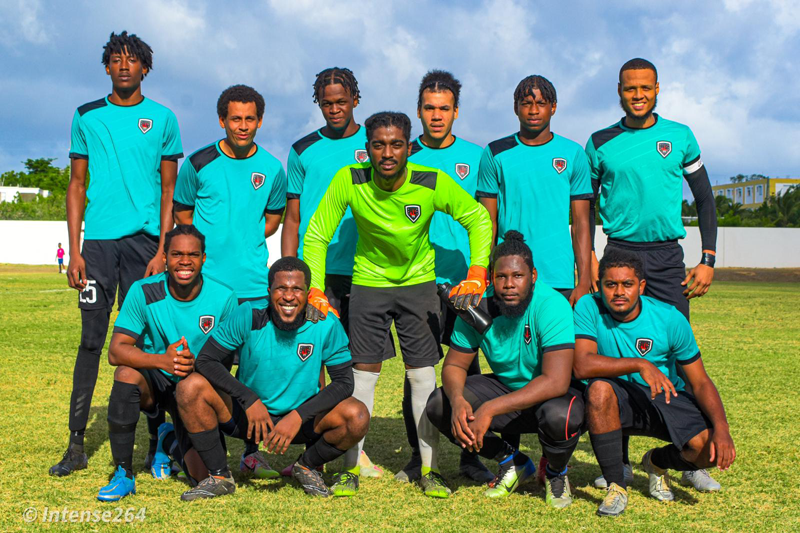 A great performance but Uprising made to settle for a point
Saturday 17th July 2021
Kick off : 4.30pm
Raymond E. Guishard Technical Centre
Anguilla Senior Male League
Attackers FC 1 - 1 Uprising FC
Referee : Albert Burton
In what could maybe described as one of our more dominant displays of the season, at the end of 90 minutes of football a point was what we went away with when all three points would have been far more deserved.
Uprising started the game in confident fashion and were moving the ball around very well indeed. The players were all looking extremely sharp both with and without possession of the ball. Our dominance was rewarded on 15 minutes when we went into the lead. Rene Thomas delivered a sublime cross to the far post which was met by Davin Fleming who headed the ball home from close range.
At this point we were well on top and on 22 minutes Rene Thomas almost doubled our lead only to be denied by a good save from the Attackers goalkeeper. Five minutes later and Antoine Laurent saw a header go narrowly wide of the target. The boys were showing some great touches and added to that our general fitness levels looked good too.
On 36 minutes, a great team passing move ended up with our young midfielder Javis Jones clean through on goal but his shot went agonisingly wide of the target.
Upto this point we had only had to defend three Attackers corners but that all changed just before the half time whistle. A ball over the top of our defence saw Attackers player, Chadwick Samuel's just beating our goalkeeper Ea-Rhon Rogers to the ball to get his team back on level terms.
Half Time Score : 1 - 1
Early into the second half and there was high drama - Tre Gumbs who had been sending in some delightful cross throughout the game took a corner on our left. Tre delivered the ball towards the goal, the ball evaded everybody and to the naked eye had looked to have gone over the line. However the officials did not award the goal and the game continued. One minute later and from another Tre Gumbs corner we again went close only to see our shot cleared off the line.
On 63 minutes, Xaviere Devonish found himself in a good position close to goal but good defending by the Attackers player prevented him from getting a shot in at goal. Four minutes later and Tre Gumbs tried his luck from range but his shot was saved by the goalkeeper.
Chances were now coming thick and fast and Xaviere Devonish again went close when clean through on goal but was again denied. Our final good chance of the game came on 87 minutes when that man Devonish produced a scintillating run down the left but his cross was turned away by the goalkeeper.
At the end of 90 minutes it was a case of what might have been but with lots of positives to take from a good all round team performance.
Uprising Line Up :
30. Ea-Rhon Rogers ( GK ) , 3. Asharn Hodge, 25. Kymani Hodge , 27. Chavoi Gumbs ( 79 / 15. Nathaniel Gumbs ) , 13. Tre Gumbs , 7. Javis Jones , 10. Rene Thomas , 20. Antoine Laurent ( 89 / 12. Keonandrew Alexander ) 8. Davin Fleming ( 59 / 18. Rayquan Gumbs ) , 24. Sanjay Harrigan ( 46 / 19. Xaviere Devonish ) , 16. Shakeem Lewis ( 46 / 5. Adrian Carty )