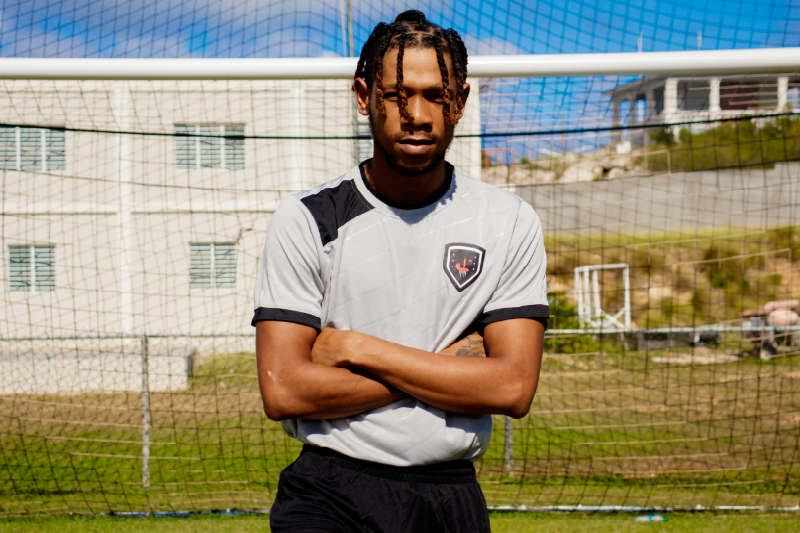 Meet the Players - Ricardo Petty
Age: 25
Place of Birth: Anguilla
Position: CDM, RM, LM, Striker
Previous Clubs: Spartans, Salsa Ballers and Kicks United
International Call Up's: Junior and Senior Team for Anguilla
Occupation: Work for an event planning and production company.
GT: Thanks very much for agreeing to this interview I am sure that our supporters around the world will enjoy hearing about your career so far. Talking of which, can you tell me about your early memories of playing and watching football?
RP: I started playing and watching football in the 3rd grade. My favourite players to watch were Rooney, Beckham, Henry, Kaka, Ronaldo #9, Ronaldinho and Christiano Ronaldo.
My first time of trying out for my school team was whilst I was in the 4th grade. I managed to get selected but I wasn't in the starting line up at first. When I was in the 5th grade I made the starting line up, playing in a RW position.
GT: Do any of the games that you played during those early years stand out for you?
RP: I scored five goals when I was in the 5th grade and we also won a cup competition. When I was in the 6th grade I made the starting line up as a striker. I scored the most goals out of all the schools, I can't quite remember the amount but it was in the mid 20's. Bu that season still haunts me because by a single goal in the finals.
In junior high I played for both the junior and senior male teams 'Purple House' - we never lost a game throughout my whole junior and senior years.
My favourite memories and moments of playing football in my early years was collecting medals, league trophies and MVP trophies. I used to dream about playing with the Pro's but at the end of Senior High, I started losing my love for the game. After recently joining Uprising FC however, that love for the game that I once had is starting to return.
GT: It's great to hear that your love for the game has returned since you joined our club but why did your love fade at the end of your school years?
RP: When I was about to go into the Juniors at school, my Uncle wanted to fly me out to the UK to try and get me into an academy but my parents were against it. They told me that once I had completed both junior and senior high here in Anguilla that I could then make my decision.
I guess the thought of that opportunity fading away had a lot to do with it.
GT: But from what you've told me previously, you continued to play and your first club was Spartans FC, had you also received a call up for the Anguilla national team at junior level at this time? And, for those of us who will never experience playing for their country, can you describe the felling you had when you got called up at both junior and senior levels?
RP: My first time of being called up at junior level was both exciting and nerve wracking.
My first time of being called up at senior level was unexpected and there was a lot more weight on your shoulders as you knew that you were battling for your country in front of loads of people. But overall both experiences were great!
GT: Who did you make your debut against when you first played for the senior Anguilla national team and what can you remember from that game?
RP: If I call correctly, my debut was against French Guyana and entered the field of play as a substitute. They were a very fast, aggressive and skilful team - I remember that the players were much stronger and bigger than I was.
GT: Great memories for you I'm sure. So back to your club career and the next club you joined after Spartans was Salsa Ballers. Can you tell me how you came to join the club and about your time there too?
RP: I joined Salsa Ballers solely off the fact that I had outgrown Spartans and I wanted to play alongside more experienced and advanced players. I played for the club for two seasons before suffering a hamstring and ankle injury. Before this I was in the starting line up for both seasons, we won the cup during my first season with them.
During my period of injury I then transferred too Kicks United but I didn't play much at Kicks due to me not making a full recovery from my injuries.
GT: It sounds like you were injured for quite some time, how long was it before you got back to full fitness?
RP: If I am being honest with you I am only now regaining full fitness since joining Uprising FC. During my time at Kicks I stopped playing for about eighteen months because it was so easy for my injuries to be triggered. During that period of not playing I was approached by several clubs including Uprising.
GT: I'm sorry to hear about your injury troubles Ricardo but it is very pleasing to hear that you are now nearing full fitness since joining our club. Talking of which, you have now been with us for a few months - how are you enjoying your time with us?
RP: Although my time with Uprising has only been a few months I couldn't ask for it to be any better. I enjoy playing with the guys, the team spirit is very high and I am really looking forward to many seasons of hard fought battles with the team.
GT: This is absolutely brilliant to hear Ricardo. It's fantastic to hear that you are enjoying being with us, we are so pleased to have you at our club. One final question for you - Could you tell me what are your short term and long term ambitions in the game?
RP: My short term ambitions in the game is mainly to regain the confidence and love that I once had.
My long term ambitions is to help to introduce younger players to the game. I recently did the 'D' Licence Coaching course, so I believe I have already made that first step to fulfil my long term ambitions.