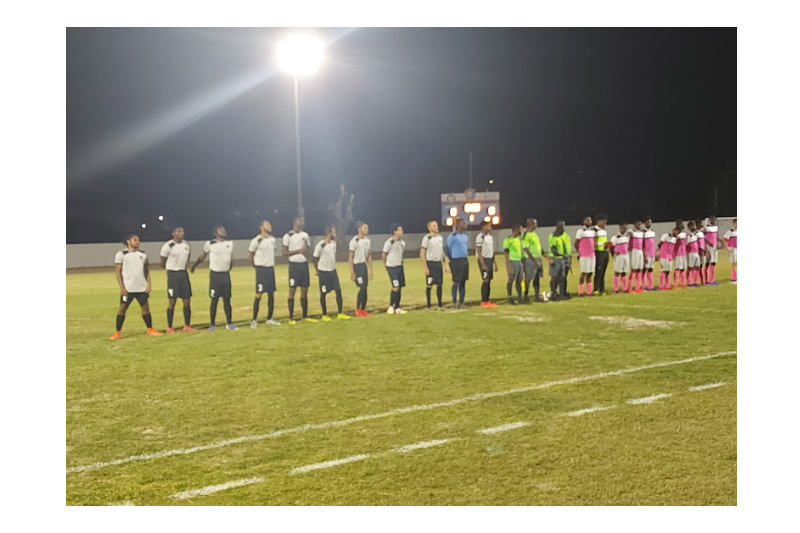 Amazing Finish See's Uprising Claim All Three Points
Saturday 13th April 2021
Anguilla Football League
Uprising FC vs West End Predators
I think that it is fair to say whilst this game won't go down as one of the best games to be played during the entirety of this season, it may well go down as one of the most important!
Uprising went into the game full of confidence having secured an opening day victory against Diamond FC whilst their opponents, West End Predators were looking for an improvement having lost their opening day game.
In what was a bit of a scrappy start to the game it was Predators who took the lead in the 5th minute. A long ball forward evaded the whole of the Uprising defence finding Nial O'Neill clean through on goal. O'Neill kept his composure before placing the ball past Rachad Thomas to give his team the lead.
Uprising settled down a little after a disappointing start and a long range shot from Tré Gumbs after 12 minutes tested the Predators custodian who was equal to the task.
Whilst Uprising were having plenty of possession they just could not find a way to unlock the well drilled Predators defence. Our next chance of note came in the 22nd minute when Rene Thomas found Stephan Fiedtkou on the left, the dangerous left sided player shot at goal which was well saved by the Predators goalkeeper. Three minutes later, Ricardo Petty tried his luck from long range but could not find a way past the goalkeeper.
Uprising got back on level terms in the 38th minute courtesy of a fine strike by Fiedtkou, a great finish into the far corner. This goal coincided with their best period of the first half but the two teams went into the half time break all square.
Half Time: 1-1
It was a very quiet opening ten minutes to the second half with both sides not really being able to create any goal scoring opportunities. Other than long range efforts much of the game was being played in the middle third of the pitch.
Uprising saw a chance to take the lead come and go in the 68th minute when Rene Thomas was presented with a good chance but unfortunately his shot at goal went narrowly over the bar.
In the 77th minute Rachad Thomas produced some fine goalkeeping by sprinting from his goal to clear a long ball that had gone over the Uprising defence. This was not the first time in the game that the young stopper had done this to good effect - his positional play and concentration was excellent throughout the game. Thomas was again called into action four minutes later, this time preventing Predators from taking the lead with a fine save from a headed effort at goal.
It looked for all the world that the game would end as a 1-1 draw but as somebody once said "It's a funny old game"
Deep into injury time Uprising were awarded a corner on the left, Javis Jones sent in a dangerous cross which found an unmarked Rene Thomas, Thomas stooped low to guide an header into the far corner of the goal. Wild celebrations followed and Uprising were able to hold on to claim a vital three points.
Uprising Line Up:
30.Rachad Thomas (GK) 2.Ea-Rhon Rogers 3.Asharn Hodge 4.Stephan Fiedtkou 6.Denny Derrick 7.Javis Jones ( C ) 10.Rene Thomas 13.Tre Gumbs 17.Matthew Brown 9.Khajique Fleming 11.Ricardo Petty
Substitutes: 5.Adrian Carty 21.Calvion Vanterpool 14.Kelley Fleming 16.Shakeem Lewis 18.Rayquan Gumbs 22.Joden Lewis 8.Davin Fleming 12.Keonandrew Alexander
View From Our Technical Director - Andre Collins
After the game we spoke to Andre to gauge his opinion of the game, this is what Andre had to say:
We thought that the game was a little more challenging than it should have been. The players we thought from time to time lost focus and did not stick to the roles that we had given them. But what they did show was a lot of fight and some character after going one goal down after five minutes. We were able to regain our composure to eventually get the victory.
We want to really highlight the work of goalkeeper (Rachad Thomas) he did a fantastic job which gave us the opportunity to launch our comeback.
They were two good strikes from our goal scorers, the team showed a lot of spirit but we do need to work on our composure, focus and conditioning. We will continue in our forthcoming training sessions to address these things and we will keep looking to get stronger and stronger as the competition progresses.
We also have to recognise that our opponents did a good job, they actually forced our defence and put us under a lot of pressure at times. So all credit to their team and also their coach.
It was a really tough game for both sides but in the end our team was able to really dig deep and work our way to the victory. So that is now two wins from our opening two games which we feel very good about. We feel that we need to continue to put in the work that we have been doing and we will keep on getting good results throughout the rest of the season.