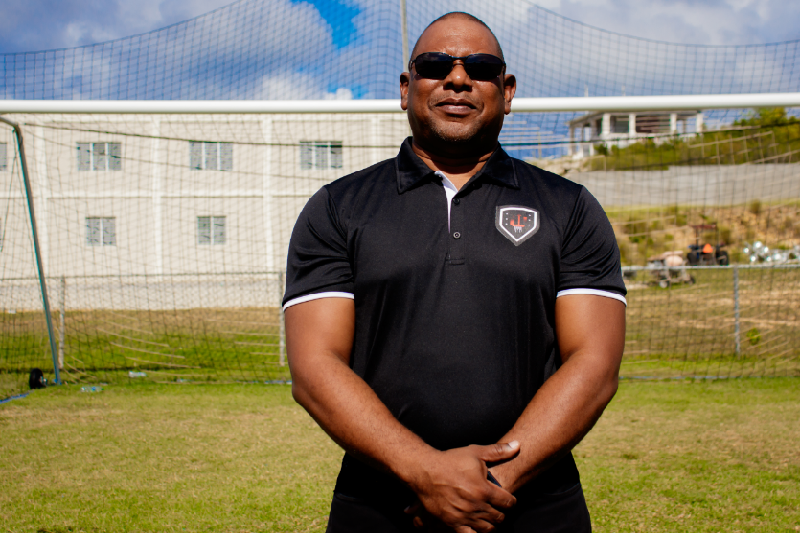 Interview with Uprising FC Technical Director - Andre Collins
With the 2021 AFL season almost upon us, our Media Officer - Gareth Thomas spoke to our Technical Director, Andre Collins and asked him for his thoughts on Pre Season and his hopes for 2021.
GT: Could you tell our supporters how the training sessions have gone during Pre Season, what things have been worked on?
AC: The training sessions so far have been pretty good with our first sessions being held in October. Following our first team meeting we discussed and identified what goals we want to achieve this year. The first sessions saw a good turn out of players with an average of 18 players attending each session. The first thing we worked on was to try and build the conditioning of the players - this has been seen to be working during our pre season games as our team look stronger and fitter than our opponents. The attendance did wain a little during December and early January but it is now starting to pick back up again. Of course, all of our guys are recreational players, we don't play in a professional league and because of that some of the players do have to miss training at times due to work commitments.
All in all my colleagues in our coaching team (Guy and Ro) are very happy with what we have seen so far. For the most part we are seeing the work we have been putting into training being shown in our games.
In terms of the actual work that has been put in as I have previously mentioned we initially started with conditioning and fitness. Added to this we have also done a lot of technical work as well in order to help and improve the guys technical ability - both on and off the ball. We have done some tactical work over the past few weeks, focusing on set plays and different transition plays. Another thing we have worked on with the players is the mental side of the game. We are trying to help the players gain focus in order for them to apply attention to their roles. This has proved to be one of the main challenges as the club have played for the last few years without a coaching system in place. Although a challenge, we are definitely starting to see some improvement on this.
GT: Could you also provide our supporters with your thoughts on our games during pre season. How have we performed, what have been the positives and negatives?
AC: For the most part the main objective was not necessarily needing to win but to see how we implemented some of the strategies, techniques and tactics that we have been working on in training. We are fairly happy in terms of our defensive unit, we are looking very solid.
From a conditioning perspective we have matched all the teams, even the number one team in the league!
In terms of the technical side of the game we still have some area's to continue to work on - finishing probably being one of the major one's.
The games have helped us to see and discover things that we did not know existed before but also helped us to see where things have been going well. With regards to players and their roles, we are asking them to be more versatile and to be able to function in multiple roles. We have seen some players stepping up to that challenge and of course some players are struggling. But we are working and trying to enhance people's strengths in certain area's where they might be a bit weak.
We have had some challenges in terms of our goalkeeping department, we are still to decide who is our number one goalkeeper but we do potentially have two supporting Keepers and we just have to keep working with them to help and strengthen their capacity to support the team as best as possible.
Scanning through all the positions, I think that we have good players in all of the positions.
All in all we have seen some good things and we have seen things that we continue to work on which the practise games have helped with.
GT: Finally, what are your hopes for the forthcoming season and what would you define as our ambition or ambitions for the season.
AC: In terms of our hopes for 2021, as a team we met (even before training started) and discussed how the previous season went and identified some of the things that were done well and things that needed improving. Obviously, the team was not previously coached so it was a new kind of structure going into the 2021 season. But, one of the things that we all agreed with was that we have the potential to finish in the top five or even top four if possible. If the players can stay focused and work together as a team for the entire season, get stronger in our communication, stronger in our execution of our roles, a better appreciation of each other then we really believe that we can have a successful season.
We also have some individual goals for some of our players in terms of their roles.
We have been happy to see that three of our players have been having a look in at national team selection which is a very good sign for the club.
As a coaching team we have identified from a fitness perspective that we want everybody to remain healthy throughout the season. We are very optimistic as a coaching staff that we have a group of players that have what it takes to settle into the roles we are asking them to execute - therefore we should have a very exciting season.
We thank Andre very much indeed for taking the time to answer our questions - it certainly promises to be very exciting 2021 season.