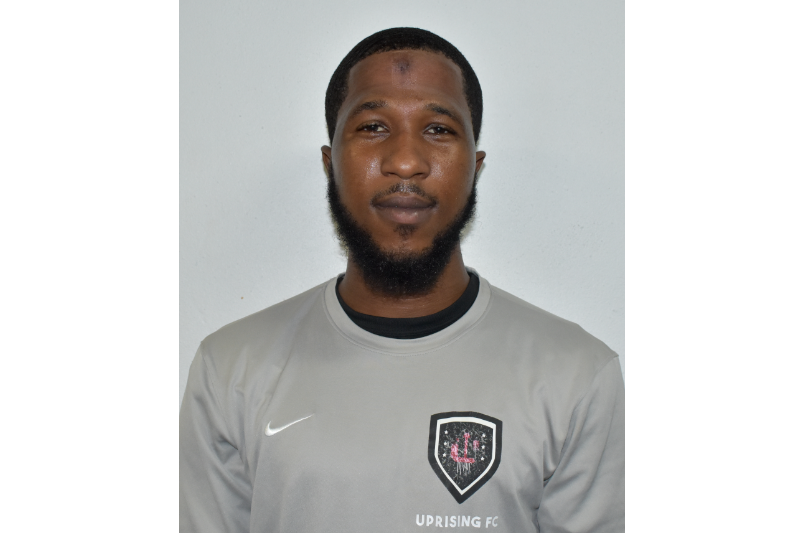 Meet the Players : Today with Shakeem Lewis
Name: Shakeem Lewis
Age: 23
Home Town: Water Swamp Road, Anguilla
Occupation: Due to Corona Virus I'm currently out of work but I was previously an engineer at Four Seasons Holiday Resort.
Previous Clubs: Strikers, Salsa Ballers, Diamonds.
Position: Attacking Midfielder
International Call Up's: Anguilla U-20's
GT: I would be interested to know what first got you interested in playing football and what age did you start playing the game?
SL: I started playing at a very young age, at primary school level. I was about 7 or 8 when I first started playing football with my friends at school. We kept playing in our spare time on a small playing area in our village back then, we played a lot of kick around at primary school level. Whether that be at snack time, lunch time or after school we'd always find time to play. So I guess it was more of a culture at that time to see all your friends and that made me eager and interested to play.
GT: Did you have any footballers that you looked up to when you was young and did you aspire to be like them when you got older?
SL: Yes indeed, back in my era when I was younger I looked up to Ronaldo (Brazilian ) Wayne Rooney, Ronaldhino, Xavi and Iniesta.
GT: Sounds like you and I like the same type of player. I used to love watching Ronaldhino play and for me Iniesta is one of the best players ever. Do you model your own style of play on any of those players?
SL: Yes indeed, I used to watch a lot of Joga Bonito videos when I was younger. Ronaldhino always had me mesmerized. As I am an attacking midfielder I tend to take a lot from those idols. I used to play as winger and as a striker but I developed a love for passing and creating plays hence the reason why Xavi and Iniesta are my midfield idols. But sometimes I look at the likes of Toni Kroos, Kevin de Bruyne, Bruno Fernandes, Frankie de Jong and Thiago Alcántara. These players are my favourites at this present time. But to answer your question, no not really, I channel my own motivational spirit and playing style. But by watching all those players play and still watching football constantly it has helped me to develop my IQ and passion for the game a lot more.
GT: Great answer Shakeem, it is good to have your own style of play. But watching and learning from those stars you've mentioned can help too. So, you mentioned earlier that you started playing football at the age of 7-8, did you play for your primary school team and then later high/secondary school? If so, what were your highlights from those years?
SL: I didn't play much at Primary School level apart from playing with my friends all the time. I made the Primary School team in grades 5 and 6 but didn't get a chance to play in grade 5. The one chance I got in grade 6, I scored two goals in the finals against our rival Primary School team, unfortunately we lost 3-2. After grade 6 it's secondary school which is high school, in high school I played more football for my club at that time. It was Salsa Ballers, I cannot really recall anything spectacular from back then but I always had that passion and love for the sport. I was younger then, there was a lot of competition and there were players that were already instilled in the team who obviously at that time were more faster, stronger and technically skilled than I was so hence I didn't play as much.
GT: So, Salsa Ballers were your first ever club then, what a great name.
SL: Yes that was my first club then I went on to play for Diamonds Fc and then I went on to play with Uprising FC.
GT: Which club were you at when you were selected to play for Anguilla Under 20's?
SL: I was with Salsa Ballers.
GT: Can you describe what it felt like to be selected to play for your country and tell me about the games you played please?
SL: The first time I got selected I was happy, euphoric it felt like a dream come true to be representing my country at international level. The first time I was selected we travelled to Antigua and played on the Stanford T20 cricket ground. We played against the host of the tournament Antigua, St. Kitts and Nevis and St. Martin (french side). It was a really great experience for the first time traveling with the national team. Unfortunately we lost all the games but nevertheless we tried our best in every match. The second time I was selected we travelled to Curaçao. We came up against the host of the tournament Curaçao, St.kitts and Nevis and Cayman Islands. All of these games were tough, high paced and intense but it was a great learning experience. Unfortunately again we were beaten by all the teams. It was also a great experience to witness different cultures of football presented by different Caribbean Islands. A challenge I would love to take up again now that I'm older and I have much more knowledge of the game than I knew back then.
GT: This sounds fantastic Shakeem, what a great experience for you. Important lessons in your football development and valuable life lessons too. Which of the teams that you faced would you say were the best and why?
SL: Curaçao from my most recent trip, they were more technically advanced than us. Most of them in our age group came from an academy so the chemistry for them was really high. They ended up winning the overall tournament.
GT: And on a personal note how do you think you performed during your time with Anguilla a under 20's?
SL: I could have performed better, if my memory serves me right I think I only played one game.
GT: Still a great honour for you though Shakeem. OK, we have talked about your international career and your previous clubs so let's now talk about your time with our club. When did you join Uprising FC?

SL: It was in 2018, I didn't play much during the first season due to a back injury. My greatest accomplishment thus far was seeing the team coming together and staying committed to win our first championship - the D league. We all are hungry for more success!
GT: And talking about the future, how far do you think our club can go and on a personal note what are your ambitions in the game?
SL: With the new coaching system in place I think we can go really really far with all our players staying committed to training. My ambition in the game is mainly to improve all my players around me on the team, the starting 11 and the subs on the bench. Hopefully by the time league starts we all should be on the same page in terms of fitness and commitment.
GT: That's a fantastic attitude to have Shakeem, I wish you every success for the future and thank you for answering my questions.
SL: It was indeed a pleasure speaking with you.