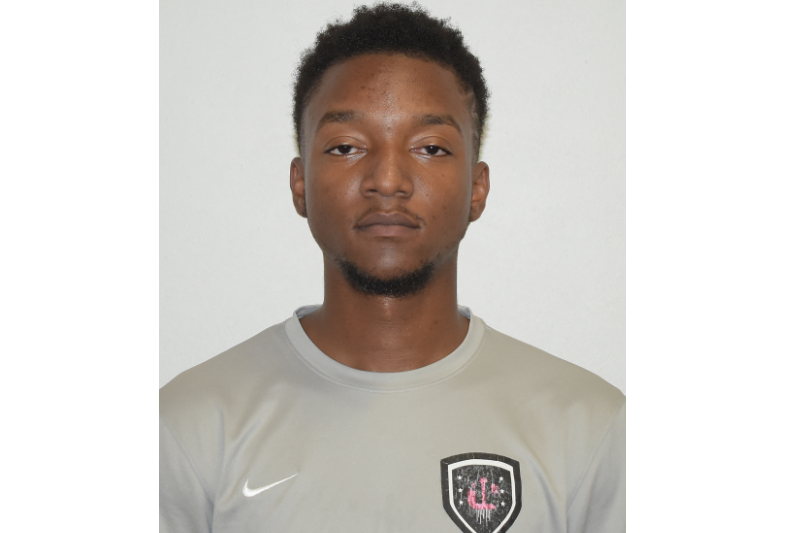 Meet the Players : Today with Nathaniel Gumbs
Name: Nathaniel Gumbs
Age: 24
Home Town: Island Harbor, Anguilla
Occupation: Immigration Officer and small Business Owner
Previous Team: Island Harbor Primary School, Spartans FC, Diamonds FC
International Call Up's: Anguilla Under 20's
Position: RB
GT: Before the interview started Nathaniel told me that he usually gets called up to the Anguilla National team training squad but always gets injured. My first question to Nathaniel was what type of injury or Injuries had he sustained?
NG: The type of injury that is troubling me is concussion but when I first got it I did not know how serious it was. I continued playing but I would be sick for two weeks with headache and stomach ache. As soon as I started to feel better I would return back to playing. But I found that everytime I headed the ball or received a bump to the head I would instantly feel sick. It took me about a month to realise that I literally couldn't head a ball properly without feeling sick. I returned to National team training but everytime I headed the ball I would again have to sit out for two weeks. Eventually this problem prevented me from going to training. When the local leagues started back, I would play but everytime I headed the ball I would get sick. I came to the conclusion that I couldn't head a ball ever again so I purchased some protective head gear and now try to play to the best of my ability.
GT: Sounds like you have been through a really tough time Nathaniel but credit must go to you for your positive attitude. Since we have started talking about international football, could you tell me how many times you have played for the Anguilla Under 20's. Also, what sort of teams did you play against and what are your highlights from playing at international level?
NG: I played against Cayman Islands, Curaçao and St Kitts and Nevis. One moment is still very fresh in my memory. I received the ball from a team mate and I proceeded to take the ball down the line. The opposing wing back tried to tackle me but I won the ball back, I carried on with the ball moving further down the line and crossed the ball to our striker who narrowly failed to score.
GT: So, we have talked about your time with the Anguilla Under 20's, let's now go back right to the start of your football journey. Can you tell me how you first got into football and what memories do you have from playing the game at school?
NG: I actually started playing football somewhat late in life.. At about the age of 10. But I quickly grew to love the sport, I went to Island Harbor Primary School which at the time had a total school population of about 85 students. With having a minimal pool of kids to choose from therefore we had more of a weaker team. Nevertheless we were fearless and took on every other team with confidence and an immense will to win. On average the win was out of reach but each subsequent match we grew hungrier for the win until we came up against Valley Primary School,which had about three times the population of our school. We ended up beating them 4-1 in which I had one of my best games playing in defense for that season.. I even got MVP for my team as well.
Another memorable time was when I was in high school playing in the inter house tournament where I made a brilliant run during a game against Yellow House. I played Rb and proceeded to take onplayers of the opposing team along the right wing, beating about 7 or 8 players and upon reaching the 18 yard box giving a through pass to my striker for a tap in. He then laid the ball off to me too instead strike at goal for my team to secure the win... this was one of my first goals playing as a defender.
Also another moment to mention came one year during high school football when the infamous purple house senior team was undefeated for the entire season. It was decided that an all star team was to be made in order to conquer their reign. The all star team would be comprised of all the best players from the other teams of which i was chosen to play right back, the game was intense. Exciting and seemingly evenly matched, as a defender the coaches saw my potential in assisting the attacking plays, so they then pushed me to go right wing where i assisted in our first goal. Then i was pushed to be the right striker and coming to the end of the game I received an excellent pass from the left striker where I made a clean turn on their defender Kasem Thompson who is now our goalkeeper at Uprising. I got a shot off on my right foot at goal and ended up scoring the final goal sealing the deal and securing the game against the purple mansion... The moment was exhilarating and the crowd went wild, it was a moment to behold and one I'll never forget.
One last moment that I wont forget was when i saved a goal from being scored at the high school interhouse finals against Purple House again but that was another year, keeping the score at 0 -0 and allowing us to go into extra time.
GT: Thank you for your excellently detailed answer Nathaniel, it has really painted a brilliant picture of your time as a youngster playing football. Who were your favourite players in the world when you were a child?
NG: From the beginning I always admired Lionel Messi. The way he made seemingly impossible things happen on the field, his simple but effective dribbling, his playing style is magical. His free kicks and passing seem unmatched in my opinion. I enjoyed watching skill shows in the early days of playing for my first club Spartans FC. Before every match I watched skill shows on YouTube of Ronaldo (CR7) Messi and Neymar more often than anyone else. I developed my own playing style based on what I saw. All of my team mates know my potential as an attacking player due to my skilful nature and tendencies to take a defender to the washer. But I stay as a defender in order to benefit my team where help is needed.
GT: Some great players that you have mentioned there. You mentioned about Spartans FC, was this your first senior club?
NG: Yes, Here I learned how to play 11 a side more or less.
GT: How long did you play for Spartans for?
NG: About three or four seasons.
GT: Did you feel that you improved as a player during your time with Spartans?
NG: Well yes of course. I was one of the better players on the team so I always was a starter and therefore I learned from experience. Up until a point where I felt that they couldn't teach me any more. Whilst I was at Spartans I also used to attend Lions Training Academy. This allowed me to develop my skills a little faster than my team mates at Spartans.
GT: How did your move from Spartans too Diamonds transpire and can you tell me about your time at the club?
NG: I found my move to Diamonds very beneficial because we did a lot of work on fitness, speed training and basically did training that really sharpened my skills. I spent approximately 1-2 seasons with Diamonds FC before moving on.
GT: So after leaving Diamonds was this when you went onto play for our very own Uprising FC?
NG: Yes, I actually started playing for Uprising whilst still at Diamonds, at the time Uprising was unofficially started as a pickup team playing for the termed "Bush league" It was a league that was formed by the Lions and Kicks club when they dropped out of the AFL a few years back. The league comprised of about four teams of which Uprising was one of them. At that time I was punished by my standing team, Diamonds FC for a few matches and suspended from national team training for a while. That further pushed me away from that team. It was that year Diamonds Fc won the league championship. Following the ending of that season I decided to transfer from Diamonds as soon as Uprising registered as a league team.
GT: Thanks Nathaniel, this is great information for me because as you know I am new to football in Anguilla and I'm learning all the time. Can you describe what it means to you to play for Uprising?
NG: Its a real honour for me me to play for Uprising FC, as one of the founding players I have been their from the start, going through various coaches, players, training ground hardships and successes. It has been a wonderful experience, I feel like this team will do great things and the sky is the limit for us.
GT: After only being associated with this great club myself for a short time I can already see a bright future ahead. How far do you think we can go and what are your personal ambitions for the future?
NG: My Dream is to become healthy enough to be able to play international football and represent my island. I feel that in a few years time Uprising FC can be the team to beat in Anguilla.
GT: And with that positive attitude Nathaniel I honestly think that both you and our wonderful club will achieve those ambitions. Thanks for your time and good luck for the forthcoming season.
NG: Thank you